Best Air Duct Cleaning & Sanitizing Services near Omaha Lincoln NE Council Bluffs IA
Omaha Cleaning Services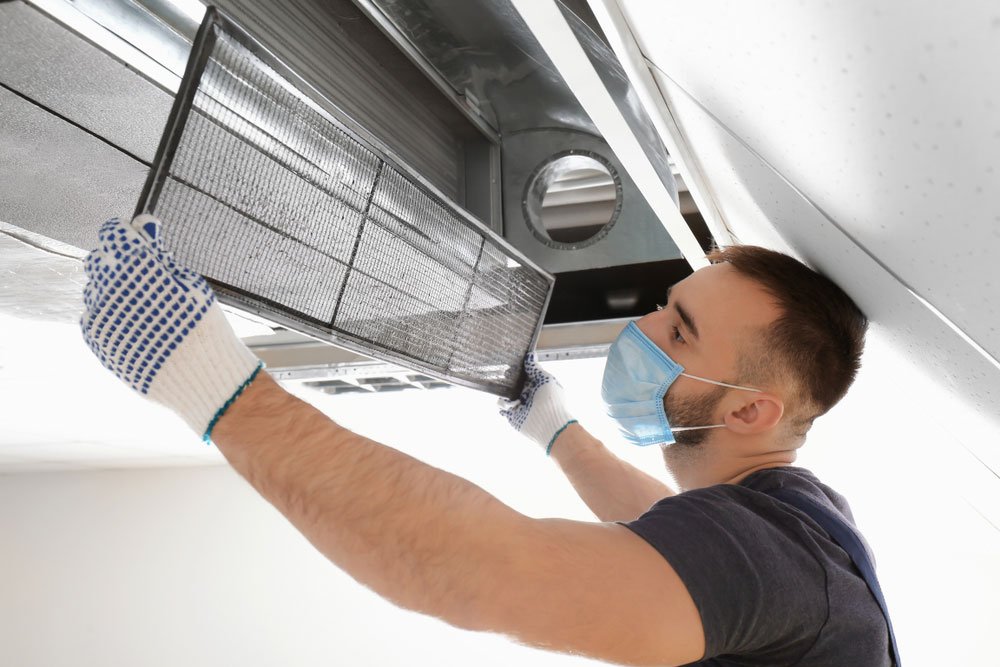 At Omaha Cleaning Service, we do our best to fulfill your specific cleaning needs. We offer high quality service and equipment for disinfection services in your  home, office or commercial facility.
What is Air Duct Cleaning?
Duct cleaning generally refers to the cleaning of various heating and cooling system components of forced air systems, including the supply and return air ducts and registers, grilles and diffusers, heat exchangers heating and cooling coils, condensate drain pans (drip pans), fan motor and fan housing, and the air handling unit housing.
When To Perform Air Duct Cleaning
Disinfecting kills germs on the surface, preventing them from spreading. If a surface is not cleaned first, germs can hide under soils and reduce the efficacy of the disinfectant.
Visible mold growth inside hard surface (e.g., sheet metal) ducts or on other components of your heating and cooling system.
Ducts are infested with vermin, e.g. (rodents or insects).
Ducts are clogged with excessive amounts of dust and debris and/or particles are actually released into the home from your supply registers.
We will provide a detail explanation in writing to get all the areas that are going to be clean and sanitize all items that are going to be clean and sanitize will have to be approve before start.
Our Process – What to Expect
Each customer becomes a primary focus to provide the best customer service experience from the moment you call us up for a quote. We'll give you a straightforward assessment of the needs of your space and give you a competitive quote. After the quote is accepted, we'll schedule one or two of our expert technicians to come to your residence or business with all the tools. Afterward, we'll follow-up and make sure you're more than satisfied with the job we've done.
Arlington NE Air Duct Cleaning & Sanitizing Services Near me
Ashland NE Air Duct Cleaning & Sanitizing Services Near me
Avoca IA Air Duct Cleaning & Sanitizing Services Near me
Avoca NE Air Duct Cleaning & Sanitizing Services Near me
Bellevue NE Air Duct Cleaning & Sanitizing Services Near me
Bennington NE Air Duct Cleaning & Sanitizing Services Near me
Blair NE Air Duct Cleaning & Sanitizing Services Near me
Boys Town NE Air Duct Cleaning & Sanitizing Services Near me
Carson IA Air Duct Cleaning & Sanitizing Services Near me
Carter Lake IA Air Duct Cleaning & Sanitizing Services Near me
Ceresco NE Air Duct Cleaning & Sanitizing Services Near me
Council Bluffs IA Air Duct Cleaning & Sanitizing Services Near me
Dunlap IA Air Duct Cleaning & Sanitizing Services Near me
Elkhorn NE Air Duct Cleaning & Sanitizing Services Near me
Fort Calhoun NE Air Duct Cleaning & Sanitizing Services Near me
Fremont NE Air Duct Cleaning & Sanitizing Services Near me
Glenwood IA Air Duct Cleaning & Sanitizing Services Near me
Greenwood NE Air Duct Cleaning & Sanitizing Services Near me
Gretna NE Air Duct Cleaning & Sanitizing Services Near me
LA Vista NE Air Duct Cleaning & Sanitizing Services Near me
Logan IA Air Duct Cleaning & Sanitizing Services Near me
Louisville NE Air Duct Cleaning & Sanitizing Services Near me
Malvern IA Air Duct Cleaning & Sanitizing Services Near me
Mead NE Air Duct Cleaning & Sanitizing Services Near me
Missouri Valley Ia Air Duct Cleaning & Sanitizing Services Near me
Murray NE Air Duct Cleaning & Sanitizing Services Near me
Oakland IA Air Duct Cleaning & Sanitizing Services Near me
Omaha NE Air Duct Cleaning & Sanitizing Services Near me
Pacific Junction IA Air Duct Cleaning & Sanitizing Services Near me
Papillion NE Air Duct Cleaning & Sanitizing Services Near me
Plattsmouth NE Air Duct Cleaning & Sanitizing Services Near me
Ralston NE Air Duct Cleaning & Sanitizing Services Near me
Springfield NE Air Duct Cleaning & Sanitizing Services Near me
Underwood IA Air Duct Cleaning & Sanitizing Services Near me
Valley NE Air Duct Cleaning & Sanitizing Services Near me
Wahoo NE Air Duct Cleaning & Sanitizing Services Near me
Waterloo NE Air Duct Cleaning & Sanitizing Services Near me
Weeping Water NE Air Duct Cleaning & Sanitizing Services Near me
Woodbine IA Air Duct Cleaning & Sanitizing Services Near me
Yutan NE Air Duct Cleaning & Sanitizing Services Near me
Get professional & affordable house cleaner today